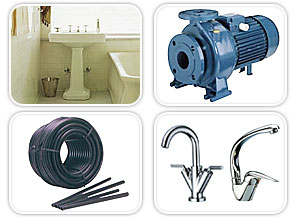 Magan Agencies, is highly acclaimed exporters of a wide range of superior quality products like Subersible Pumps & Sanitary Ware, etc. We have adopted innovative methods and procedures to meet demanding requirements of our customers.

We have a team of highly skilled and dedicated employees, who work towards their objectives to offer services that can exceed customer expectations at every point of service. We have a team of seasoned sales executives, who work in close co-ordination with our clients to understand their specific requirements and hence to deliver products with exact specifications. Further, we closely work with the market to gauge the market potential, demand and trends of the industry, so as to provide an innovative range of products and gain a competitive edge in the industry.

Quality
We are a quality conscious company and believe in maintaining the highest quality standards. Our entire operation, which starts from procuring of materials and goes through till delivery, passes through rigorous quality checks conducted by a team of highly skilled quality engineers.

According to our philosophy, quality is not only about the durability and design of product, but the core value for which customers buy it. At Magan Agencies, we primarily focus on increasing the utility and value of the products, that we source from our associates.